The 2020 season will be here before you know it! You can get your tickets
now!
A league created by Canadians for Canadians, the CEBL has the highest percentage of Canadian players of any professional league in the country, with 80% of its current rosters being Canadians!
The CEBL season typically runs from May through August but has been delayed this year because of COVID-19. As a result; our Guelph Nighthawks haven't taken the court yet but that's all about to change!
The CEBL Summer Series is coming and all 7 teams in the league will be participating.
Tip off for the Series is July 25th with a double header that includes our Guelph Nighthawks!
For all of the details on the CEBL Summer Series, please visit https://www.thenighthawks.ca/
Listen to 1460 CJOY for all your Guelph Nighthawks games!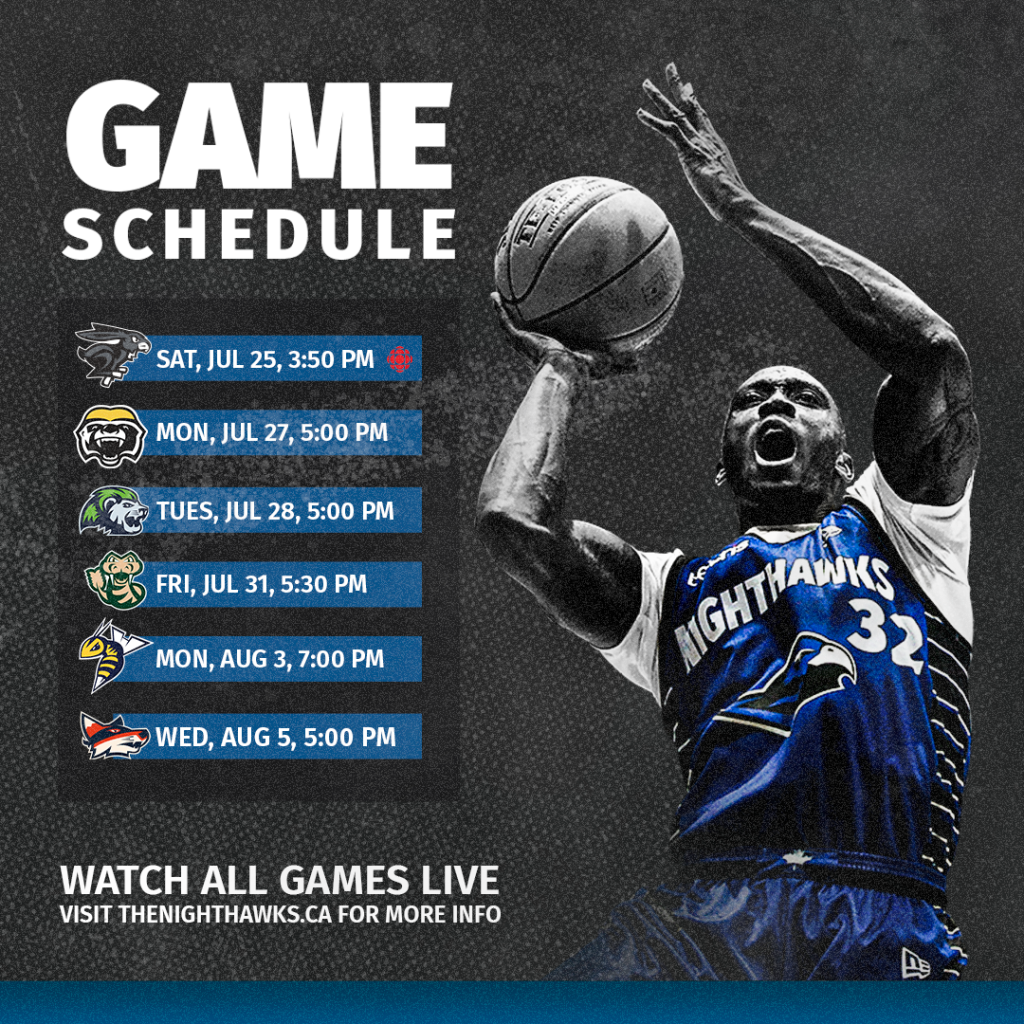 RESULTS
GAME 1 (SAT, JULY 25) – Guelph Nighthawks 89 – Ottawa Blackjacks 71
J. Arledge (Guelph) – 14 points, 10 rebounds
T. McCallum (Guelph) – 16 points, 5 rebounds
———
GAME 2 (MON, JULY 27) – Guelph Nighthawks 71 – Hamilton Honey Badgers 97
T. Green (Guelph) – 16 points
J. Reynolds (Guelph) – 12 points, 4 rebounds
———
GAME 3 (TUES, JULY 28) – Guelph Nighthawks 84 – Niagara River Lions 65
T. McCallum (Guelph) – 18 points
J. Reynolds (Guelph) – 11 points, 7 rebounds
T. Green (Guelph) – 11 points, 6 rebounds
———
GAME 4 (FRI, JULY 31) – Guelph Nighthawks 87– Saskatchewan Rattlers 71
T. McCallum (Guelph) – 18 points, 3 rebounds
O. Famutini (Guelph) – 14 points, 1 rebound
J. Arledge (Guelph) – 16 points, 5 rebounds
———
GAME 5 (MON, AUG 3) – Guelph Nighthawks 71 – Edmonton Stingers 85
J. Friesen (Guelph) – 14 points
K. McKenzie (Guelph) – 13, points, 2 rebounds, 3 assists
T Green (Guelph) – 12 points, 5 rebounds.
———
GAME 6 (WED, AUG 5) – Guelph Nighthawks 70 – Fraser Valley Bandits 84
K. McKenzie (Guelph) – 13, points, 2 rebounds, 3 assists
T. McCallum (Guelph) – 10 points, 6 rebounds, 4 assists
J. Craig (Guelph) – 10 points, 5 rebounds
———
QUARTERFINAL (THURS, AUG 6) – Guelph Nighthawks (5TH SEED) 75 – Ottawa Blackjacks (4TH SEED) 83
T. McCallum (Guelph) – 17 points, 1 rebound, 1 assist
T Green (Guelph) – 14 points, 4 rebounds, 3 assists
K. McKenzie (Guelph) – 14, points, 3 rebounds, 3 assists
Guelph Nighthawks fall in CEBL Summer Series quarterfinals
Ottawa managed to hold Guelph to a .357 shooting percentage and out-rebounded them by 11 despite playing their third game in as many nights.

Tre'Darius McCallum put up 17 points for the Nighthawks, but the BlackJacks countered with four players scoring in double digits.

Despite the elimination, the Nighthawks enjoyed an impressive turnaround this year after missing the playoffs last season and finishing in second-last place.

Head coach Charles Kissi, who was hired midway through the last campaign, said his team played hard throughout the tournament.

"I thought we grew as a team. I thought individuals got better and as a group to come together pretty fast. We did a pretty good job overall, so hats off to our guys," he said.

The BlackJacks move on to the face the Edmonton Stingers in the semifinals on Saturday.

The championship game is scheduled for Sunday.

———
Edmonton Stingers beat Guelph Knighthawks to extend win streak to 5 games
Nighthawks thump Rattlers to improve to 3-1
By Contributing CEBL Writer: Thomas Waind • Aug 01, 2020  Files from thenighthawks.ca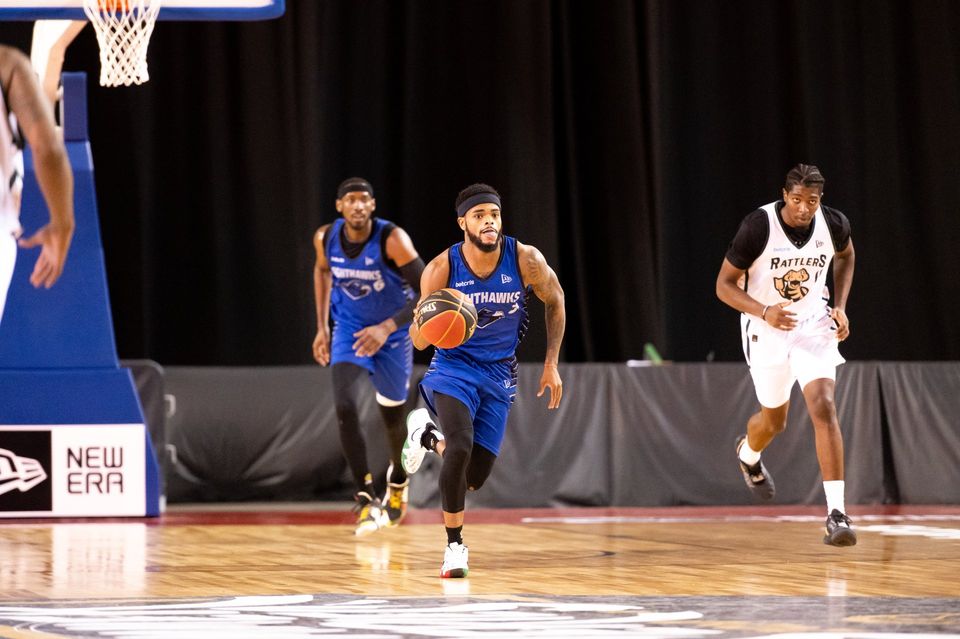 The Guelph Nighthawks continued their winning ways with a decisive 87-71 win over the Saskatchewan Rattlers. After a tightly contested first quarter, the Nighthawks found another gear and won the game to improve their record to 3-1. With the win, Guelph is currently tied for the top seed in the CEBL standings.
After trading leads for most of the first half, the Nighthawks were able to enter halftime with a 44-41 advantage. When asked by sideline reporter, Amy Audibert, what aspects of the game needed adjustments, Kimbal MacKenzie simply responded, "we have to clean up our rebounding."
The Nighthawks would win convincingly in a 43-30 second half run. Their play hinged on the strength of a locked in defense that stole the ball 14 times and generated 26 points off of turnovers. The team also took MacKenzie's halftime advice and won the rebounding battle 34 to 31.
The game ended on a 9-5 Guelph run punctuated with a Tyrell Tate Elam Ending. After Jonathan Arledge missed a hook shot on the left block, Tate scooped up the offensive board and laid it up and in for the win.
Tre'Darius McCallum earned Player of the Game for the Nighthawks on the back of a game-high 18 points along with 3 rebounds and 4 steals. Arledge was a game-high +25 with 13 points on 80% shooting from the floor and 5 rebounds. MacKenzie had a strong performance with 11 points, 4 rebounds and 5 assists and Olu Famitimi chipped in with 14 points off of the bench.
The Nighthawks showed off their depth with every player seeing floor time and nine players receiving at least 12 minutes of play. As stated by play-by-play man Jason Thom on the broadcast, "what makes this Nighthawks team strong is that everyone knows their role and can contribute."
The Nighthawks have two days of rest before tipping off against the Edmonton Stingers on Monday at 7:00 p.m. ET.
———
Nighthawks Catch Fire in the Third to Soar Past River Lions
Jul 29, 2020 Files from thenighthawks.ca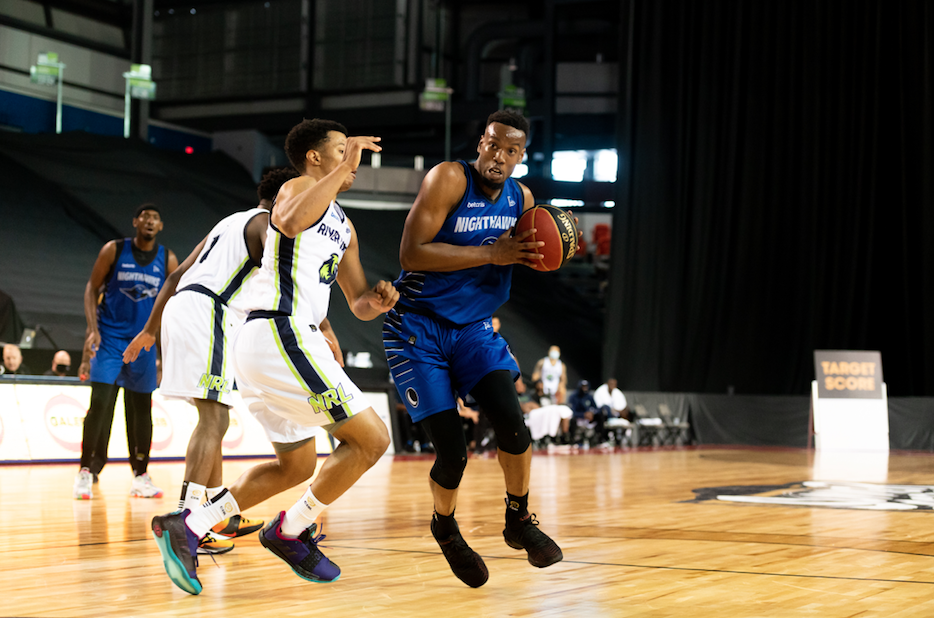 ST. CATHARINES, ON, July 28, 2020 – Both the Niagara River Lions and Guelph Nighthawks entered the CEBL Summer Series with high hopes and great expectations. For Guelph, the Summer Series offers an opportunity to reward a faithful fanbase that stuck by the team during the CEBL's 2019 inaugural season, despite finishing 6-14.
For Niagara, the 2020 campaign brings with it a chance to reward a fanbase that is hungry for the team to reach the promised land after cruising through the 2019 regular season, only to come up short in last year's semi-final contest at Championship Weekend in Saskatoon.
The River Lions and Nighthawks earned convincing victories in their opening games, defeating Hamilton and Ottawa by double digits, respectively, only to falter in their follow up contests against Saskatchewan and Hamilton.
Tuesday night's action offered an opportunity to get back in the win column and both teams opened the game eager to find their rhythm; however, it was Guelph that managed to find its stroke when it mattered most as the Nighthawks forged ahead past the River Lions to claim an 84-65 victory.
"We're trying to hold each other accountable and get better so everybody challenged each other today and we did a very good job," Nighthawks head coach and general manager Charles Kissi said. "Everything is one game at a time right now. It's not like we're looking to the playoff rounds right now, we're just focusing on the next game, trying to take care of bodies – these guys have been working extremely hard."
Each team came out of the gate looking incohesive as a team. Isolation basketball, turnovers and three-point attempts early in the shot clock plagued both squads as each team shot below 40 per cent from the field, below 30 per cent from three-point range and committed 22 combined turnovers in the game's first 20 minutes.
Fortunately for the River Lions, Niagara ended the first half on a 5-0 run behind a three-pointer by big man Sam Muldrow and a pretty pull-up baseline jumper from Kassius Robertson. The late spurt allowed Niagara to claw to within one point of Guelph at the break, due largely in part to Guelph's inability to find the open man, recording only four assists in the opening two quarters.
The Nighthawks found their stride in the third quarter as they ended the frame on a 9-3 run that was punctuated by a lay-up courtesy of Olu Famutimi.
"We have to know ourselves. We are individually a great group of players, but as a team we're even better, so defensively and offensively we just need to have that mentality," Olu Famutimi said.
A lay-up by Daniel Mullings to open the final frame cut the score back to single digits, but an eight point deficit would be as close as Niagara would get as Guelph poured on 27 points in the fourth to outpace Niagara behind 12 second half assists. With the loss, Niagara drops below .500 for the first time in CEBL history.
"Togetherness. Playing hard together – it's really the situation. It's not like we're not talented enough, not athletic enough to do enough things on the court," said head coach and general manager Victor Raso.
"We have some deficiencies shooting the ball, especially some guys who are average shooters or slightly better than average that aren't shooting the ball very well right now, but it's just the group of guys need to play harder together."
Niagara and Guelph will both enjoy two days off before taking the court again on Friday, July 31. The River Lions are up first at 3 p.m. ET (1 p.m. MT) when they face-off against the Edmonton Stingers. Guelph will play Saskatchewan in the second half of the double-header at 5:30 p.m. ET (3:30 p.m. MT).
———
Guelph Nighthawks hope to rebound in Game 3 of CEBL Summer Series
Honey Badgers Strike Early and Often to Defeat Nighthawks
Marika Guérin • Jul 28, 2020 Files from thenighthawks.ca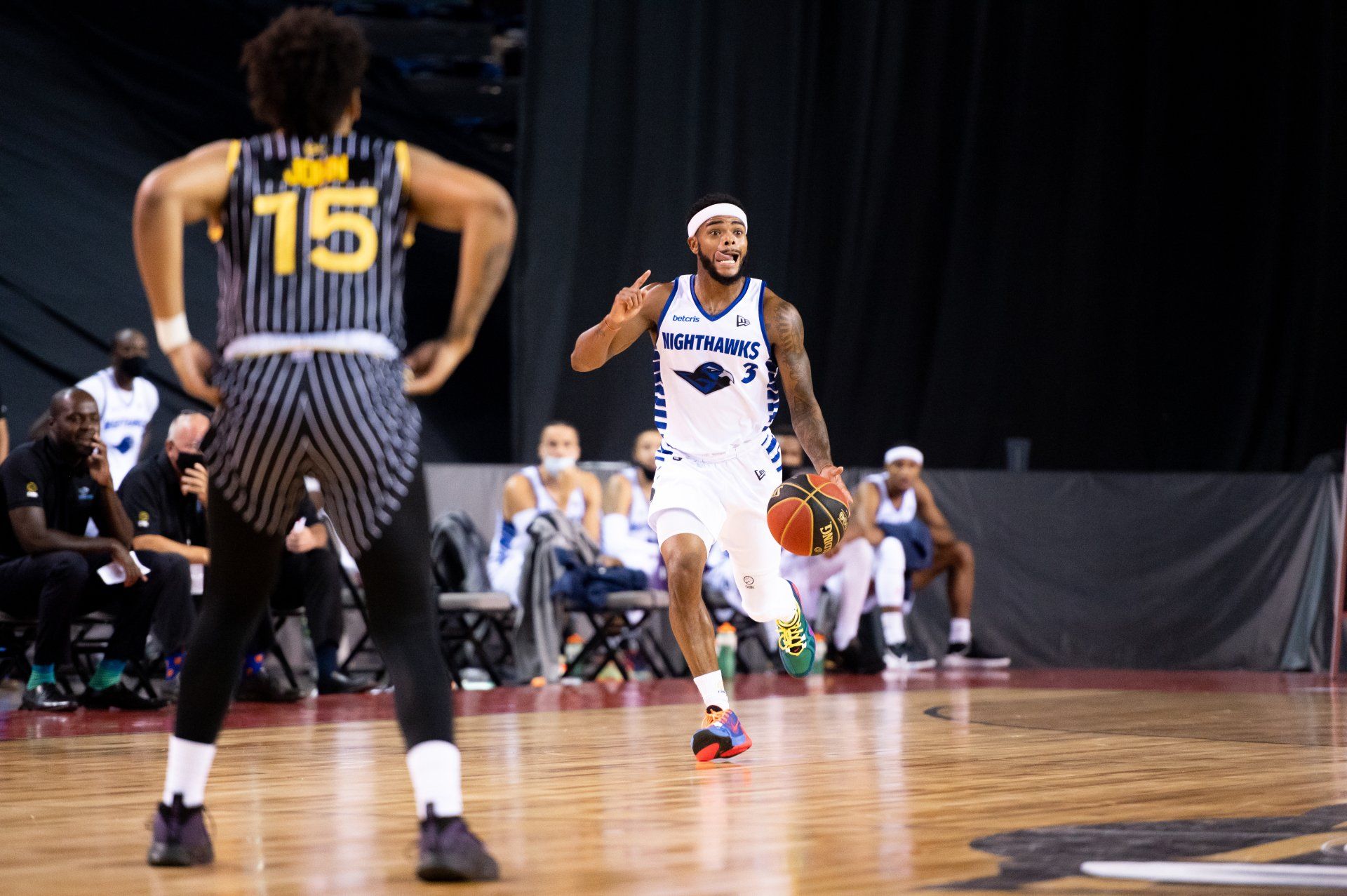 ST. CATHARINES, ON, July 27, 2020 – The Hamilton Honey Badgers and Guelph Nighthawks entered Monday night's game with opposite objectives. The Honey Badgers were determined to bounce back from a 97-85 loss to the River Lions, while Guelph was looking to record its second consecutive win of the young CEBL Summer Series campaign.
Entering the Summer Series, the Honey Badgers were labelled as a team to watch thanks to the additions of NBA-experienced guard Brianté Weber and Team Canada regular Owen Klassen.
The Honey Badgers came out a different team on Monday compared to the one that was outpaced by Niagara on Saturday. The pressure defense that was absent Saturday fueled Hamilton to a 10-0 run to open the game and forced Guelph to shoot just .235 from the floor in the opening frame and .294 in the first half. Weber, Klassen, and Jaylen Babb-Harrison combined for 31 first-half points to help the Honey Badgers enter halftime ahead 46-33.
"Obviously Saturday was a tough loss. It was our first game out the gate," said Honey Badgers head coach Ryan Schmidt after picking up the first victory of his pro head coaching career. "I think we kind of sold ourselves short in terms of effort and just the overall togetherness on Saturday. So, we kind of challenged the guys yesterday, and I think they responded really well."
Guelph struggled to find any consistency and leaned heavily on Tyrell Green to produce offence for the Nighthawks. Green scored a team-high 16 points, and the only other Nighthawk to score in double digits was Jamal Reynolds, who finished with 12 points.
Guelph showed signs of life in the third quarter as a steal and a breakaway lay-up by Marcus Anderson brought the Nighthawks to within 10 points, but that would be as close as Guelph would get. The Nighthawks shot just 29 per cent from the field in the game and were outscored 42-18 in the paint.
"We didn't play with a lot of great energy today," said head coach Charles Kissi. "Transition defence and all of our keys – we didn't do a great job executing. But again, it's one loss and we've got another game tomorrow. We'll move on and figure it out and be ready to play tomorrow."
Duane Notice was Hamilton's Player of the Game on the strength of his 14 points on six-of-seven shooting from the floor, seven assists, three steals, and usual stellar defense.
"I just want to continue to lead my guys and be coachable as well so everybody on my team can come to tell me when I'm doing anything wrong or how I can do better," Notice said after the game. "That's just how we rock."
With the loss, Guelph falls to 1-1 and will take on Niagara (1-1) Tuesday at 5 p.m. ET. Hamilton improves to 1-1 and will face Edmonton on Wednesday at 7 p.m. ET.
———
GUELPH, ON – The Guelph Nighthawks Head Coach and General Manager Charles Kissi wrapped up the 2020 Canadian Elite Basketball League offseason with a flurry of free agent signings that focused on adding size, depth and positional versatility to a roster that looks to improve on its fifth place finish in the 2019 CEBL standings. Since the announcement of the 2020 CEBL Summer Series, the Nighthawks have made a number of transactions to arrive at the final 12-man roster that will compete for the 2020 CEBL Championship over the next three weeks.
The Nighthawks' 2020 roster sees the return of five members of the 2019 team, including Olu Famutimi, Myles Charvis, Jabari Craig, Jamal Reynolds and Kimbal Mackenzie. The team will feature two internationally designated players during the Summer Series, highlighted by Americans Tre'Darius McCallum from the NBA G League and Jonathan Arledge from the French Pro A Jeep Elite League. Canadians Marcus Anderson, Tyrrel Tate, Joel Friesen, Corey Johnson and Tyrell Green make up the other five members of the Nighthawks 12-man CEBL Summer Series roster.
In total the Guelph Nighthawks roster includes five players that have previously played for Team Canada, nine players that graduated from NCAA programs, three from U SPORTS programs, nine players that have played in top-level European basketball leagues including France's Jeep Elite League and Spain's LEB, and three that have played on NBA G League teams.
Olu Famutimi was the first player re-signed to the 2020 roster. The 6-foot-5 veteran guard was a calming influence on the floor for the Nighthawks last season and proved to be an integral leader off the court for many of the team's younger players. Famutimi averaged 15 points, 5 rebounds and 2 assists in 19 games for Guelph last season. A consistent contributor, Olu was a mainstay in the starting lineup as his versatility enabled him to impact the game on both ends of the court. Famutimi was unanimously named the Nighthawks Most Valuable Player following the conclusion of the inaugural 2019 CEBL season.
The 36-year-old brings a wealth of experience from the Canadian national team and the highest levels of European professional basketball, which proved to be a big reason why both President Cameron Kusch and Head Coach and GM Kissi were intent on bringing Famutimi back in 2020.
"Olu became a staple in our locker room last season, showing our younger players the work ethic and dedication required to excel at the professional level. His steady presence was influential as we started to mold the culture of our club in the second half of the season. We're excited to have Olu back and I believe being the first signing of the upcoming season is representative of his role as a core leader in 2020," Kissi said.
Famutimi was one of the most highly regarded Canadian high school recruits, before suffering a career-altering knee injury. Olu played NCAA Division I basketball at the University of Arkansas, participated in NBA training camps with the Philadelphia 76ers and San Antonio Spurs, spent time with the Canadian national team, played professionally in the NBA G League and overseas in Germany, Turkey and France. Famutimi has been with the Kitchener-Waterloo Titans of the NBLC during this off-season, staying close to home and family in the GTA.
The Nighthawks kicked off the month of April by announcing the return of 25-year-old Canadian guard Myles Charvis. Charvis was drafted out of Ryerson University by the Nighthawks at the 2019 CEBL Entry Draft where he developed on Guelph's practice roster for the first half of the 2019 season. Following the arrival of Kissi in July, Charvis was moved to the active roster and became an integral part of the team's bench. In 11 games Charvis put up 10.6 points and 5.1 assists per game. Charvis' offseason was cut short after suffering a torn achilles while playing for the K-W Titans in the NBLC , but remarkably through an intense rehabilitation program Charvis has been medically cleared for game action in the 2020 CEBL Summer Series.
Kissi re-signed three additional members of the 2019 Nighthawks roster: point guard Kimbal Mackenzie, guard Jamal Reynolds and centre Jabari Craig.
Mackenzie returns to the Nighthawks after a tremendous showing during the inaugural 2019 season. The Oakville product is a true point guard with big game experience which was put on display last year. Mackenzie opted to attend high school in the talent hotbed of Washington, D.C. at John Carroll High School. At only 22 years old, Mackenzie joined the Nighthawks following the arrival of Coach Kissi and immediately started in every game he played. Having graduated from Bucknell University (NCAA Division I – Patriot League) in Pennsylvania just a few months prior, Mackenzie made an immediate impression during his rookie CEBL campaign. Since the end of the inaugural CEBL season, Mackenzie has been playing in Spain for C.B. Valladolid in the Spanish LEB Gold League.
Reynolds makes his return to the Guelph Nighthawks after a strong 2019 showing. The 26-year-old guard was a solid contributor during the nine games he played for the Nighthawks. The Pickering product played high school basketball for Pine Ridge Secondary School where he was named MVP in his senior season. Reynolds played two seasons at the JUCO level for Mott Community College in Flint Township, MI before going to Western New York to play at Canisius College (NCAA Division I – MAAC) where he made an immediate impact. Before joining the Nighthawks in 2019 Reynolds played two seasons in the NBLC for Cape Breton where he was named Sixth Man of the Year and First Team All-Canadian in 2018-19. He secured a contract in Spain for the 2019-20 winter season and played for Circulo Gijon in the Spanish LEB Silver League.
Craig returns to the Nighthawks after a brief stint with the team at the beginning of the 2019 season. The Scarborough native transferred to East Carolina University in his junior year. Over the course of two years with the Pirates, Craig averaged 3 points per game and 3.9 rebounds per game through 47 games. During the 2019-20 CEBL off-season, Craig spent time with CSM Focsani (Romania) of the Romanian Divizia A league, and KB Rahoveci (Kosovo) of the Balkan BIBL league, where he averaged 6.1 points per game, 6.2 rebounds per game and 1.1 blocks per game over 21 games. Craig also spent the 2018-19 season with the Cape Breton Highlanders of the NBLC.
On April 17th, 6-foot-7 American small forward Tre'Darius McCallum of the NBA G League's Windy City Bulls signed on with the team. Better known as Tre, McCallum's shooting ability and size make him a difficult match-up. As a starter this past season with the Chicago Bulls G-League affiliate, McCallum averaged 11.2 points, 3.5 rebounds and 2.8 made three-point field goals per game.
With a focus on improving the club's depth and versatility, Coach Kissi added two new Nighthawks who spent time with other CEBL club's during the 2019 season, former Fraser Valley Bandits Tyrrel Tate and Joel Friesen.
A 6'5" forward, Tyrrel Tate grew up in North Carolina but was born in Calgary, thereby giving him Canadian status in the CEBL. Tyrrel has spent three seasons in the NBA's G League, most recently with the Washington Wizards affiliate, the Capital City Go-Go. Tate was a mainstay in the lineup for the Fraser Valley Bandits in 2019, starting 18 games, scoring 14.2 points and adding 4.3 rebounds and 2.4 assists per game. His career most recently took him to the Mexican CIBACOPA, where he shot 58 per cent from 3-point range while scoring 17.8 points per game.
Another former Fraser Valley Bandit and first overall draft pick from the 2019 CEBL Entry Draft, guard Joel Friesen, was signed by the Nighthawks on April 20th. The 6-foot-5 Canadian starred for the University of Alberta, leading the Golden Bears to 2nd and 3rd place finishes at the USPORTS Final 8 Men's Basketball Championship. Since turning pro Friesen has played in the CEBL, NBLC and the Ukrainian Superleague. Last season in the Valley, Friesen was a versatile veteran presence, averaging 8.9 points, 2.3 rebounds and 1.6 assists per game for the Bandits.
Former UNLV standout Tyrell Green was signed by Coach Kissi as he continued to build out the team's depth in the backcourt, giving him another weapon from behind the arc. The 6-foot-7 Canadian guard spent parts of this past season in Finland's Korisliiga with Ura Basket and with the London Lightning of the NBLC. Between the two league's Tyrell averaged 12.0 points per game while shooting 40 per cent from three-point range.
In the 2020 CEBL – U SPORTS Draft, following a five-year championship-filled career at Carleton University, the Nighthawks selected Marcus Anderson with the third overall selection. Anderson is known as one of the top defenders in the country, leading the Ravens as the top defensive team in the OUA during each of his five years at Carleton. The lockdown defender had been named the U SPORTS and OUA Defensive Player of the Year in 2017-18 and 2018-19. Anderson's Carleton Ravens were crowned U SPORTS National Champions in four of his five years, including the most recent 2019-20 season.
Two late additions to the roster were Harvard University alumni Corey Johnson and American forward Jonathan Arledge.
Johnson joins the Nighthawks after having his 2019-20 season cut short due to COVID-19. Johnson made an immediate impact off the bench with the Leicester Riders of the British Basketball League, averaging 12.4 points per game over 9 games. The Ottawa native played four years for Harvard University Crimson, playing in 105 games, averaging 24.4 minutes per game and scoring 7.2 points per game. During his first professional stint in 2019-20 with the Spanish LEB Silver Zornotza Saskibaloi Taldea, Johnson started in all 15 games and averaged 10.6 points per game.
Arledge joins the Nighthawks and the CEBL following a campaign in France with Cholet Basket of the Pro A Jeep Elite League. Arledge started in 23 of 25 games, averaging 8.2 points per game and 4.4 rebounds per game. The Washington native spent three years with George Mason University before transferring to Old Dominion University to finish out his senior year in 2014-15 where he was a consistent starter for the Monarchs. Arledge has also played professionally in Latvia, Italy and Switzerland since graduating in 2015.
Coach Kissi is optimistic about the roster he and the Nighthawks basketball operations staff have been able to bring to the Summer Series for the Nighthawks' second season. "I'm excited about the group we put together. I think we have a good balance of rounded basketball players. Our guys have bought in and worked extremely hard over our training camp," Kissi said.
There is a different attitude around this club as Coach Kissi prepares to head into his second season with the Nighthawks. "These guys are going to have to come in and compete every day. It's that type of daily competition that will help establish the winning culture we're focused on building in this organization," Kissi said.
The CEBL Summer Series tips off on Saturday, July 25th with a nationally broadcast double-header, including the Guelph Nighthawks versus the Ottawa BlackJacks at 3:50pm ET. The Summer Series will culminate with the CEBL Championship on August 9th.
For more information on the Guelph Nighthawks and the CEBL Summer Series please visit www.thenighthawks.ca.
2020 Guelph Nighthawks
| | | | | | | | |
| --- | --- | --- | --- | --- | --- | --- | --- |
| NO. | NAME | POS. | HT. | HOMETOWWN | SCHOOL | YR. | LAST TEAM |
| | | | | | | | |
| 2 | Olu Famutimi (CAN) | G | 6-5 | Toronto, ON | Arkansas '05 | 15 | Kitchener (NBLC) |
| | | | | | | | |
| 3 | Myles Charvis (CAN) | G | 6-0 | Mississauga, ON | Ryerson '19 | 1 | Guelph (CEBL) |
| | | | | | | | |
| 5 | Marcus Anderson (CAN) | G | 6-3 | Brampton, ON | Carleton | U | Carleton (OUA-U SPORTS) |
| | | | | | | | |
| 6 | *Jonathan Arledge (I) | F | 6-9 | Washington, DC | Old Dominion '15 | 5 | Cholet Basket (France) |
| | | | | | | | |
| 10 | *Tre'Darius McCallum (I) | F | 6-7 | Myrtle Beach, SC | DePaul | 2 | Windy City (NBA G) |
| | | | | | | | |
| 12 | Tyrrel Tate (CAN) | F | 6-5 | Calgary, AB | Fayetteville State '14 | 6 | Rayos de Hermosillo (Mexico) |
| | | | | | | | |
| 20 | Joel Friesen (CAN) | G | 6-5 | Abbotsford, BC | Alberta '15 | 5 | Kitchener (NBLC) |
| | | | | | | | |
| 21 | Jabari Craig (CAN) | C | 6-10 | Scarborough, ON | East Carolina '18 | 2 | KB Rahoveci (Kosovo) |
| | | | | | | | |
| 23 | Jamal Reynolds (CAN) | G | 6-4 | Pickering, ON | Canisius '16 | 3 | Circulo Gijon (Spain) |
| | | | | | | | |
| 24 | Corey Johnson (CAN) | G | 6-5 | Ottawa, ON | Harvard '19 | 1 | Leicester (U.K.) |
| | | | | | | | |
| 28 | Tyrell Green (CAN) | G | 6-7 | Toronto, ON | Nevada '17 | 3 | London (NBLC) |
| | | | | | | | |
| 32 | Kimbal Mackenzie (CAN) | G | 6-2 | Oakville, ON | Bucknell '19 | 1 | C.B. Valladolid (Spain) |
Proudly Sponsored by: