CJOY opened on June 14. It was Guelph's first and only radio station. Many well known radio artists from Toronto and New York joined with local artists and announcers to celebrate the event. A station tour was held, followed by cocktails. In the evening, the Royal City Pipe Band welcomed guests at the Odeon Theatre. The Reverand J.E. todd conducted the official opening. Gordie Tapp was emcee. Talent included Lorne Green, a 16 piece orchestra under Lou Snider, with soloists Bert Niosi and Morris London, Percy Faith, and others. Overall program production was by Jack Slatter.
CJOY broadcast on a frequency of 1450 kHz with 250 watts power, non-directional The transmitter and single tower were located at Lot 10, Concession 1, Division E, Guelph Township, Wellington County.
Some of the staff: Lloyd Dafoe (chief announcer), Carl Banas (operator), Bert Cobb (chief engineer), Wally Slatter (manager), Fred Metcalf (sales manager). Slatter and Metcalf co-managed CJOY.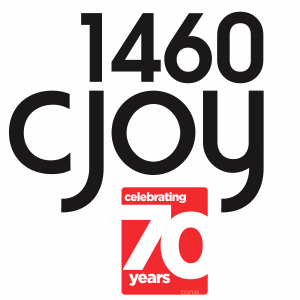 Join us in celebrating 70 years starting June 14th thru August 24th!  Celebrating 70 days of 70 years on 1460 CJOY!